Shopping & Food
Blogs & Podcasts

>>Gadi Amit - blogs about the need to change our consumer behaviors rather than simply "green" our over-con
sumption behaviors.
>>Food S
hortages and Civilizations with Lester Brown -
How closely related are food supplies and the stability of a civilization? We'll talk with environmental advocate Lester Brown about food, water,
energy, and global stability. Teachers, find more information about using Science Friday as a classroom resource in the Kids' Connection.
Via Science Friday from NPR

>>Controlling Our Food - A documentary about the gigantic bio-tech corporation Monsanto and how it's threatening to destroy the agricultural biodiversity which has served humankind for thousands of year. Via Google Videos
In the News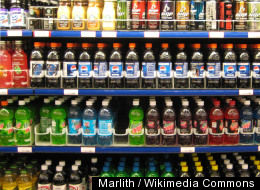 >>As the push for a tax on sugary foods and drinks like sodas increases, the Huffington Post notes that the sugar industry is ready to put up a fight




>>Are you a resident of Santa Monica? Sign up on the city's
Garden Partnership Regis
try!
Through this program, home/property owners provide the land and the water and the gardeners do the work. Together, you share the crop! The City maintains the registry of homeowners and potential gardeners based on information provided on the applications. The homeowner then selects a gardener from the registry and together the homeowner and gardener determine the specific arrangements that will work best for both parties.

>>
TIME Magazine reports in "Getting Real About the High Price of Cheap Food"
on
ranchers and farmers who are raising sustainable food in ways that don't bankrupt the earth.
(Im
age via TIME)

>>
How Meat Contributes to Global Warming - According to a 2006 report by the United Nations Food and Ag
riculture Organization (FAO), our diets and, specifically, the meat in them cause more greenhouse gases carbon dioxide (CO2), methane, nitrous oxide, and other greenhouse gases into the atmosphere than either transportation or industry. Via Scientific American.
>>
Losing Ground
shows what industrial-scale crop production is doing to the land we depend on for our food. As part of this eye-opening report, EWG filmed Iowa farmland losing soil after recent rainstorms and created a short video (with Atlas Films) that highlights how federal farm subsidies and ethanol mandates are threatening healthy and sustainable food production.



>>Choose Fair Trade Cocoa/Chocolate to Choose Slave-Free Cocoa/Chocolate -
"The US State Department has
reported slavery on many of these cocoa farms, and the International Institute of Tropical Agriculture reported in 2002 that nearly 284,000 children were working under unsafe conditions.
"
Via examiner.com
>>Pathogens in our Pork - "
Seventy percent of all antibiotics in the United States go to healthy livestock, according to a careful...and that's one reason we're seeing the rise of pathogens that defy antibiotics.
"
>>Crop Scientists Say Biotechnology Seed Companies Are Thwarting Research - "Biotechnology companies are keeping university scientists from fully researching the effectiveness and environmental impact of the industry's genetically modified crops, according to an unusual complaint issued by a group of those scientists."

>>Organic Farming Beats Genetically Engineered Corn as Response to Rising Global Temperatures - Food security and global warming: Monsanto versus organic. Via Organic Consumers Association.

>>Deadly 'superbug' infections spread - The drug-resistant bacterium is now more lethal than AIDS in the U.S., a study shows. "Experts attribute the emergence of the superbugs to indiscriminate use of antibiotics, the failure of patients to complete their antibiotic regimens and the use of antibiotics in animal feed. In each case, incomplete eradication of the bacteria leads to mutations that have increased resistance to the drugs." Via LA Times.

Becoming an Informed Consumer
>>Seven Food Certification Programs You Need to Eat Green - a knowledge of these food certification programs will help you make environmentally-conscious choices when you're at the supermarket.

>>A great video on buying locally and supporting local growers

>>Green Office Buying Guide - This site will assist anyone interested in purchasing products designed to use water and energy efficiently, preserve trees and natural resources, be less toxic and less polluting, and not threaten air quality.

>>GreenerChoices.org - A very informative environmental section of Consumer Reports.

>>SustainLane.com - An online environmental portal where you can review green products and read others' reviews.

>>ResponsibleShopper.org - GreenAmerica's (formerly CoOp America's) excellent online resource that alerts the public about the social and environmental impact of major corporations while providing opportunities for consumers and investors to vote with their dollars for change.

>>BetterWorldShopper.org - terrific resource created by the author of the Better World Shoppping Guide.

>>Greenopia.com - guide to all things green in our area.

>>Recycled Tissue and Toilet Paper Guide by Greenpeace - Recycled tissue products help protect ancient forest, clean water, and wildlife habitat. Via Greenpeace.



Greenwashing


>>EnviroMedia Greenwashing Index - rate real ads by whether you think they're greenwashing or not.

>>CorpWatch Greenwashing Awards - nominate companies that greenwash for this less-than-desirable bimonthly award.



Microfinancing


>>MicroPlace - eBay's lending site, where you can make a return of up to 3% off your microloan investment.


>>
FINCA - sets up community banks in small villages in developing countries.


>>
GlobalGiving - offers a money-back guarantee if you don't like the results, and heads up American projects like helping people affected by Hurricane Katrina.


>>
Grameen Foundation - the original microlender, it's credited with reducing rural poverty in Bangladesh by 40%.


>>
Kiva - lets you choose a project; loan $25 or more, and you'll receive updates on how the money's being spent - and the idea is that you'll be repaid.


Healthier Food Choices
>>From pasture to plate - "This graphic story shows how some of the most popular foodstuffs in the U.S. are made, with an emphasis on how fossil fuels enter into the production chain. The amount of fossil-fuel energy used to make a steak, potato, soda and an organic salad may surprise you."


>>Campaign for Healthier Eating in America - "Genetically modified foods are linked to toxic and allergic reactions, sick, sterile, and dead livestock, and damage to virtually every organ studied in lab animals. They are banned by food manufacturers in Europe and elsewhere, yet GMOs are present in the vast majority of processed foods in the US." View a Non-GMO Shopping Guide. Via Institute for Responsible Technology.

>>Download the handy wallet-sized "Shopper's Guide to Pesticides" from Environmental Working Group - Learn which top 12 fruits and vegetables you should always buy and eat organic, and lower your exposure to pesticides by up to 80 percent!


>>Food and Water Watch - is a nonprofit consumer organization that works to ensure clean water and safe food. They challenge the corporate control and abuse of our food and water resources by empowering people to take action and by transforming the public consciousness about what we eat and drink.

>>Water Filters: Green Buying Guide - Via Consumer Reports.

>>Farmers' Markets - A complete list of farmers' markets in Los Angeles County

>>
FoodDeclaration.org - Assert your right to healthy food and agriculture. Michael Pollan, author of the Omnivores Dilemma and In Defense of Food, edited the third draft of this declaration.
>>
VegPledge.com - A resource for those of you looking to dramatically lower your ecological footprint by reducing your consumption of animal products.


Community Supported Agriculture & Farmers Markets

>>Locavoring in a box: Organic CSAs in Los Angeles - "Thanks to the growing interest in local, organic food, Angelenos can suddenly pick from a wealth of community supported agriculture programs with locations all over the metropolis. CSA programs basically let you invest in a local farm — for which you're rewarded with weekly boxes of fresh local produce grown from that farm."

>>Check out The Times' new and improved guide to Southern California farmers markets - here you can search by location, day of the week, or market name.

More Veg, Less Meat
>>
VegKit.org - A free resource including, booklet, recipes, advice and current nutritional information


>>
CoolYourDiet.org - An online resource connecting diet and global warming, including several links to the UN report detailing the environmental impacts of meat.


>>
MeatOutMondays.org - A weekly e-newsletter that delivers a veg recipe, an inspirational message, and an informative feature to help you go without meat every Monday.


Fish
>>
Blue Ocean Institute FishPhone - send a text to 30644 with the message FISH in all caps, followed by the name of the fish you want to know about, and it'll fire back sustainability info on that species.


>>
Seafood Selector - Environmental Defense Fund's downloadable pocket seafood selector and up-to-date list for the skinny on the most and least sustainable fish.


>>
National Resources Defense Council - Mercury info and another pocket-sized seafood selector that focuses on mercury levels.